arcoiris blog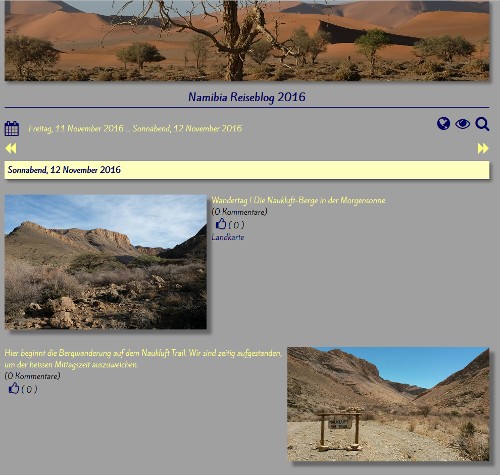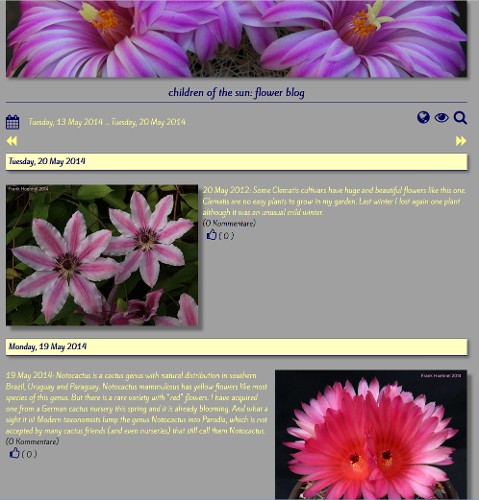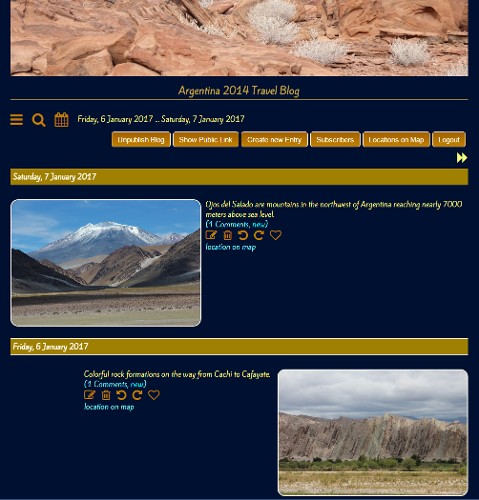 New in Release 2.17.1
A Google Maps API key is required now to use the geo-tagging functions.
Initial Release 2.16.0
This is the first release of the blog as standalone application. Former releases were part of the WebFileSys project (www.webfilesys.de). The blog module has been sourced out and got a new name: arcoiris. So it is possible now to install the blog without doing so with the bulky WebFileSys application.
There are also some improvements in functionality and stability of the WebApp and the Android blog client over the previous release.
Features
standard Java webapp to be deployed in any servlet container
no database required - all data (except the pictures) are stored in cached XML files
automatic downscaling of uploaded pictures to thumbnail and full blog size
performance- and memory-optimized presentation of pictures (thumbnails first, replaced dynamically by full size on scroll)
public URL for visitors
optional staged publication of new entries (extra release step)
visitors can add comments, new comments marked for blog author
like-function for visitors
subscribe function to notify visitors about new blog entries via e-mail
search function
automatic extraction of GPS location data from pictures (Exif-data of JPEG images)
presentation of GPS locations on Google Maps, Open Street Map and in Google earth
choice of different layouts (via different CSS)
select a blog picture as title picture
auto-rotation of blog pictures according to Exif orientation flag
explicit rotation of pictures by blog author
date selection via calendar
sort order as blog (newest entry first) or as diary (oldest entry first)
optional self-registration of users or registration by admin
disk quota inspection with e-mail notification to admins
source code available on github
Screenshots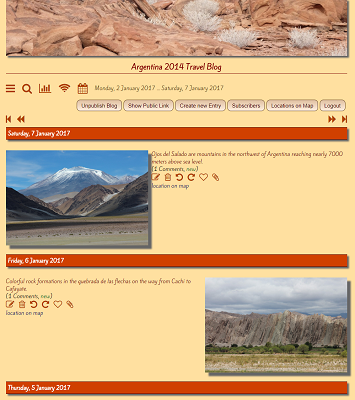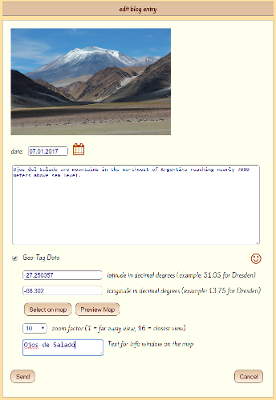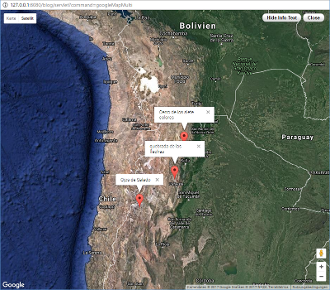 Android client app
The app for Android allows to post blog entries directly from a Smartphone or tablet. The pictures are being scaled down to blog size before they are transferred to the arcoiris blog server thus reducing the amount of data being sent.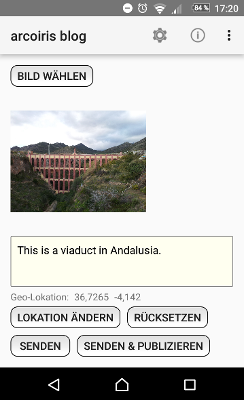 Downlaod
Downlaod the install package as ZIP archive here: arcoiris-blog-2.17.zip
Downlaod the Android blog client install package as APK archive here: arcoiris-blog.apk
To be able to install the Android APK it is required to allow installion of Apps from external sources in the settings of the Android device.
License
arcoiris blog ist distributed under the GPL 3.0 license.
Additional license restriction: The link "about arcoiris blog" on the login screen, which shows an info window linking to the arcoiris homepage, must not be removed!
Included Software from other authors
The MediaUtil framework (http://mediachest.sourceforge.net/mediautil) written by Dmitriy Rogatkin and Suresh Mahalingam is used for lossless JPEG image transformation.
A library from Drew Noakes called ExifExtractor is used to extract EXIF data from digicam pictures.
XML and XSLT libraries from the Apache projects Xerces and Xalan are used.
A PNG encoder written by J. David Eisenberg (KeyPoint Software) is used for image transformation.
A Javascript calendar from Matt Kruse is used for the date selection.
Browsers that do not support XSLT or have no Javascript interface to the XSLT engine are using the Google Javascript XSLT library ajaxslt for partial page rendering.
arcoiris blog uses the Google Maps API to select and display geographic locations.
The icon font from Font Awesome (http://fortawesome.github.io/Font-Awesome) is included.
Contact the author
If you find a bug or have suggestions for improvements please contact the author at frank_hoehnel@hotmail.com .